What you'll need to get started.
Starter Candle Glass
(includes candle glass & silicone clean out insert)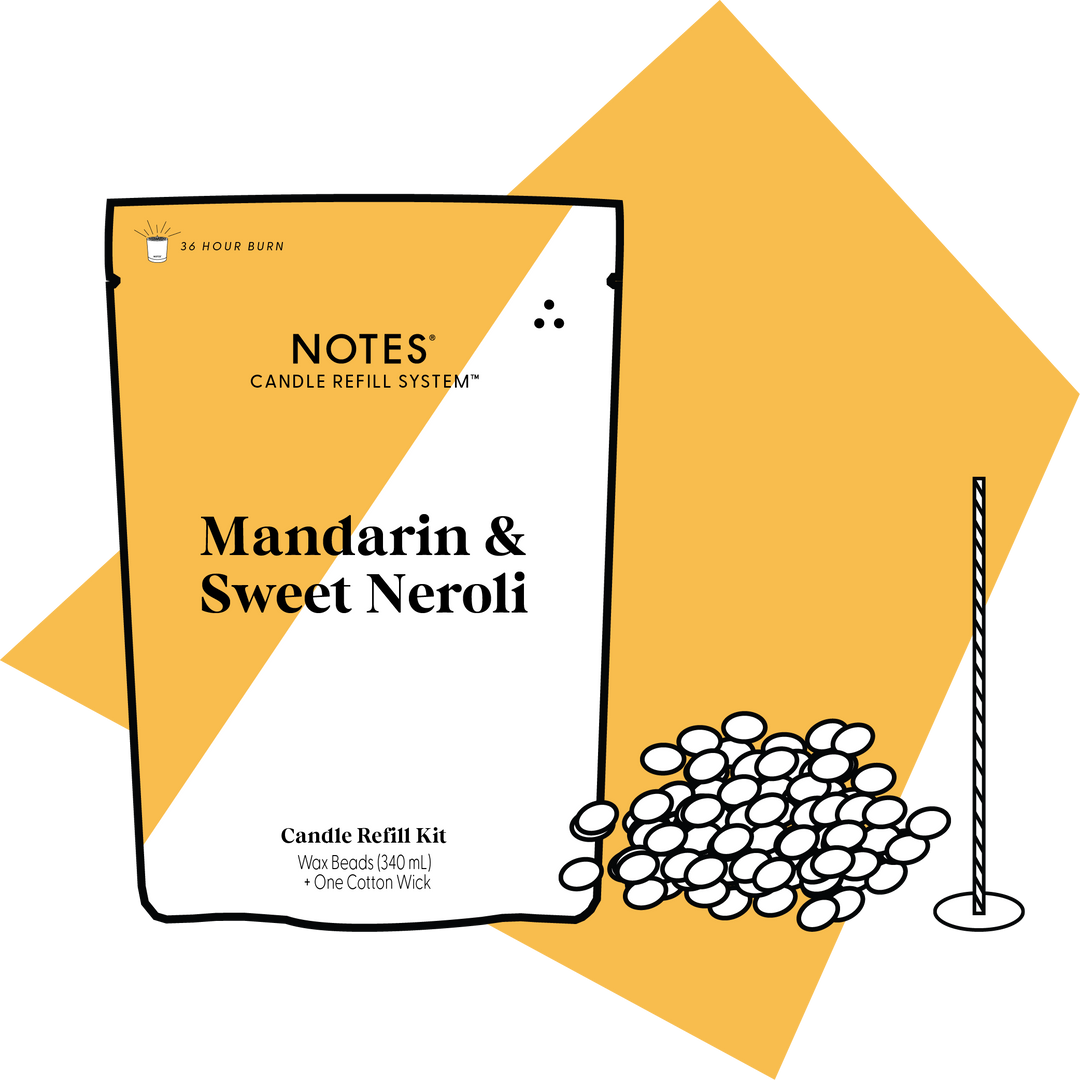 Candle Refill Kit
(includes highly fragranced wax beads & cotton wick)
How To Set Up Your Candle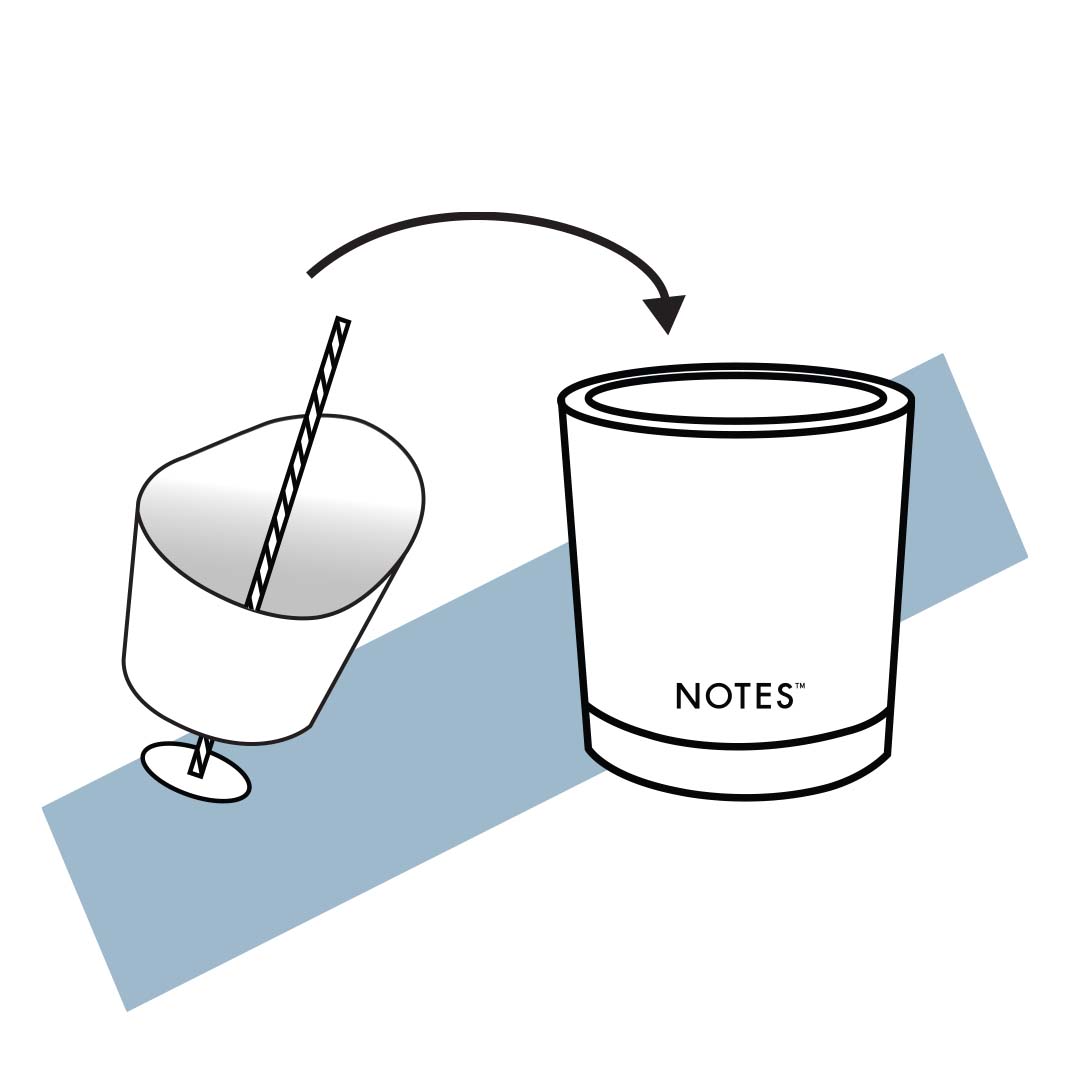 Wick.
Remove wick from Refill Kit. Thread wick through hole in bottom of Silicone Cleanout Insert. Place Wick and Insert in the NOTES® glass.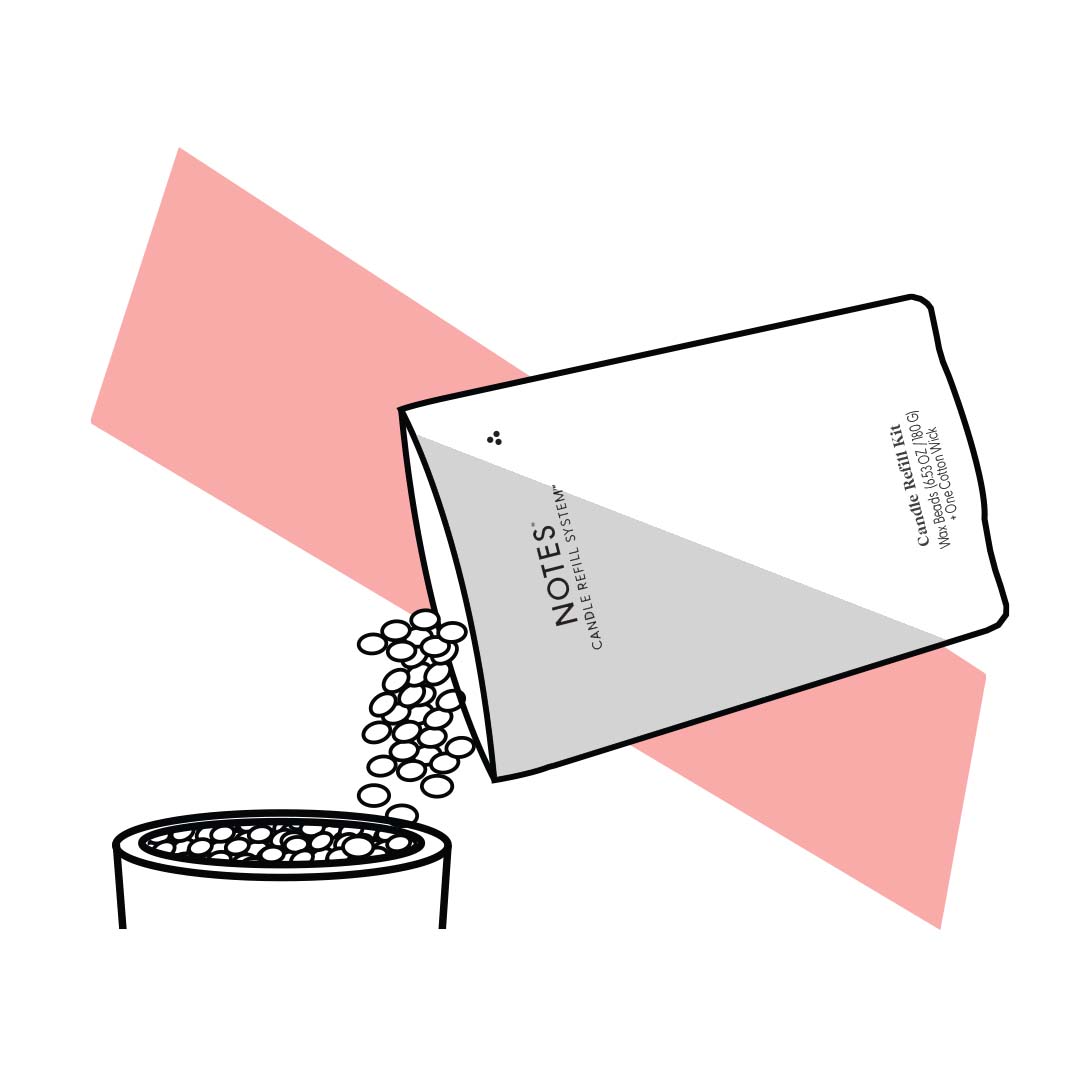 Fill.
Pour ALL wax beads from Refill Kit into NOTES® glass. Pack in the beads to make them dense. It's ok to create a mound on top to use all the beads. Trim your wick to 1/8" above the beads to prevent excess smoke & soot.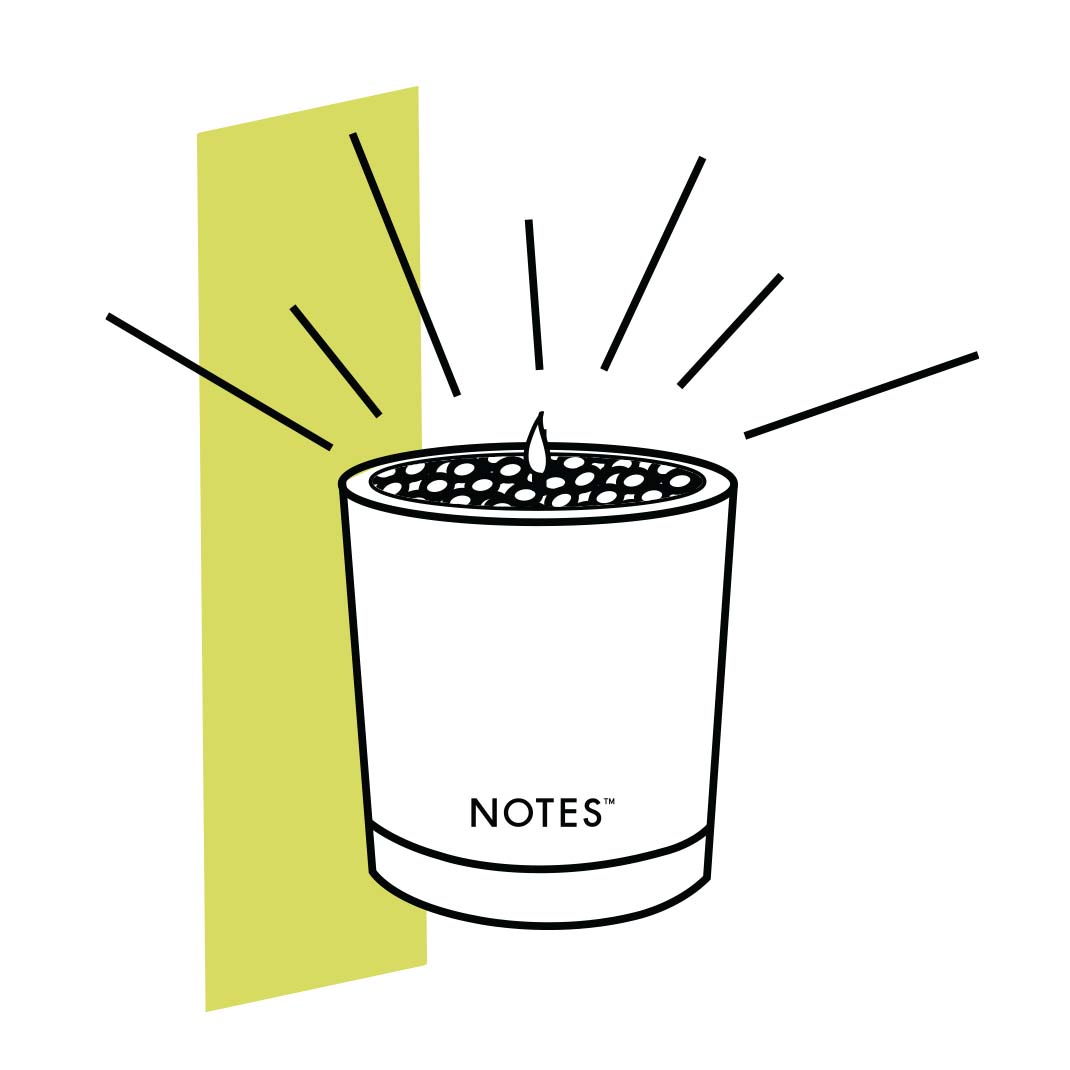 Burn.
Light candle and enjoy! For best results, burn 4 hours; allow to cool before relighting. Take note, tunneling is normal for the first half of the candle burn. When 1/4" of wax remains, extinguish flame. NEVER add wax beads after lighting the candle. Save them for your next candle refill or use in a wax warmer.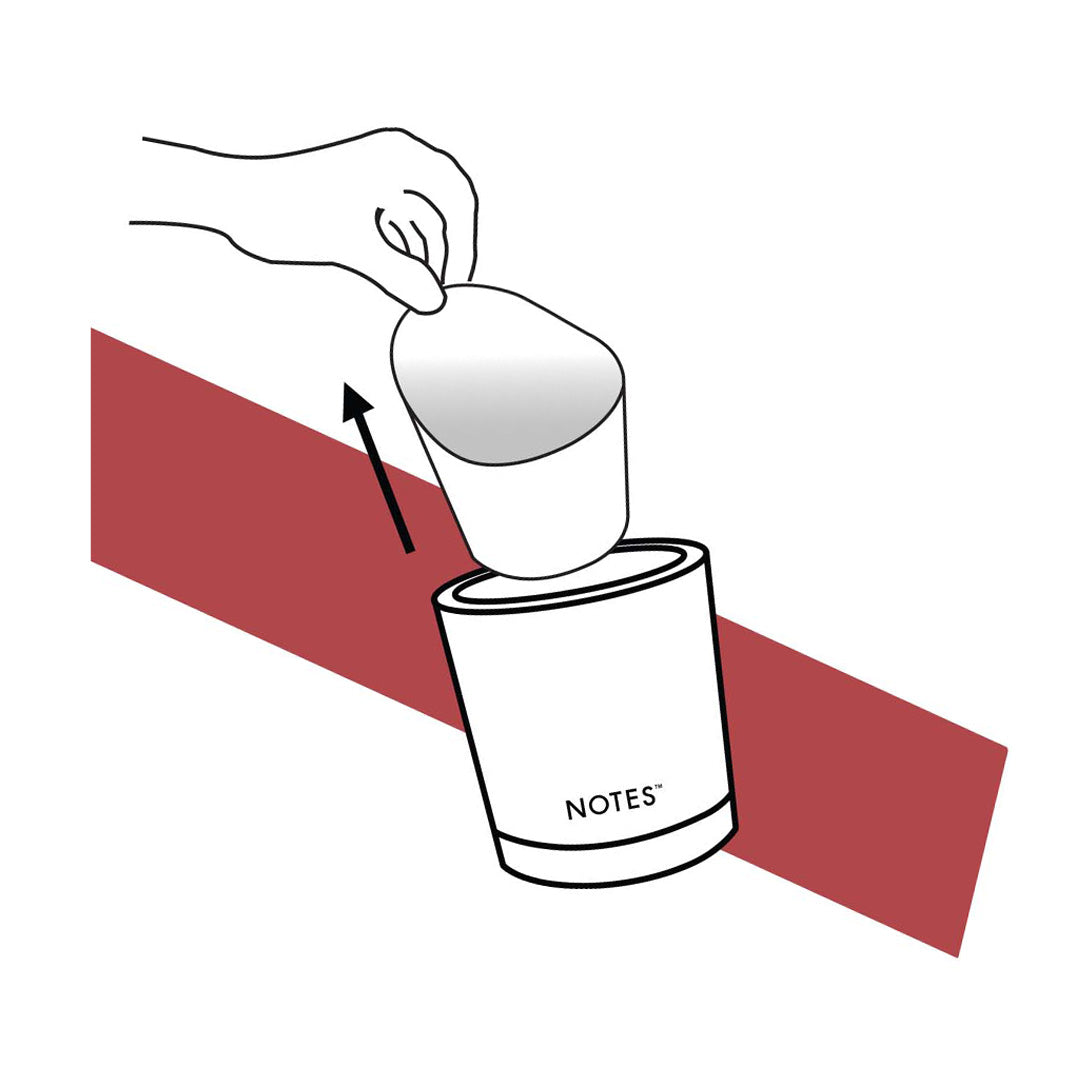 Refill.
Once wax has cooled, pull Silicone Cleanout insert to remove from glass. Flip insert inside out. Remove remaining wax and wick. Your NOTES® Candle Glass is now ready to be refilled with a NOTES® Candle Refill Kit in the fragrance of your choice.
No! All of our candle components are perfectly formulated and safety tested for our Starter Glass Vessel. Do not use Refill Kits with your own glass.
At NOTES®, we believe there is no such thing as too much of a good thing. That's why we've filled all our fragrance refills to the brim with our non-toxic, all-natural wax. For the best burn possible, make sure to gently pack the beads in. Don't be shy! Create a mound at the top of the candle with your extra wax. We never recommend saving wax to be poured in at a later time, as this is likely to snuff your flame.
NOTES® candles are designed to tunnel the first 1/3 to 1/2 of the candle. This is largely due to the air flow created between the beads. This is normal, and doesn't affect the quality of fragrance or the longevity of the candle like it might in a traditional pillar candle. We don't recommend pushing the wax into the warmed wax pool, so as to prevent snuffing out the flame. The beads will slowly waterfall into the center as the candle continues to burn, leveling the wax without you having to do a thing. This process is not only interesting to watch, but creates a beautiful silhouette and soft glow when observing from the outside of the vessel. By the time your silicone insert is ready to be removed, you should have an even disk of wax with minimal bead residue on the walls of the candle. 
We're not perfect (and we admit it). If you have packed down your wax beads and mounded your candle and still have remaining wax, we recommend disposing of the excess. You may also choose to place these on a wax warmer. Never add the remaining wax to an already lit candle, as this will snuff the flame.
After your candle has a 1/4 inch of wax remaining, we advise extinguishing your candle and removing the wax disk through our silicone insert. This slab of fragrance is still useful in providing scent and can safely be burned in a wax warmer or tea-light warmer if available. Alternative use should be exercised with caution. 
The wax can be thrown away after use. Due to its fragrance oils, we do not recommend composting.
For additional help, please contact our Customer Service Team by phone at 866-603-6165 or email us at info@notescandle.com.
No! Our vessel is designed to safely and effectively burn with one of our cotton wicks.
That's what our team of qualified Customer Support staff is here for! Please reach out to them Monday through Friday, 8am-5pm, by emailing info@notescandle.com or giving us a call at 1-866-603-6165.
Each NOTES® fragrance is tested extensively by our lab team to ensure a final consumable product of quality, room-filling fragrance. We recommend mixing fragrances at your own discretion, as these actions have not been tested for
adherence to our strict quality and safety standards.
Watch it burn.
A candle like ours is anything but ordinary – and that includes our burn! The air pockets between the beads cause the heat to throw off large amounts of fragrance. You may notice this causes tunneling the first half of the burn.
LEARN ABOUT THE BURN
Candle Without Compromise.
Full of the fragrance you love and free of the toxins you don't. The cherry on top? Made to be refilled again & again.
All Your Burning Questions About Candles & Sustainability View all