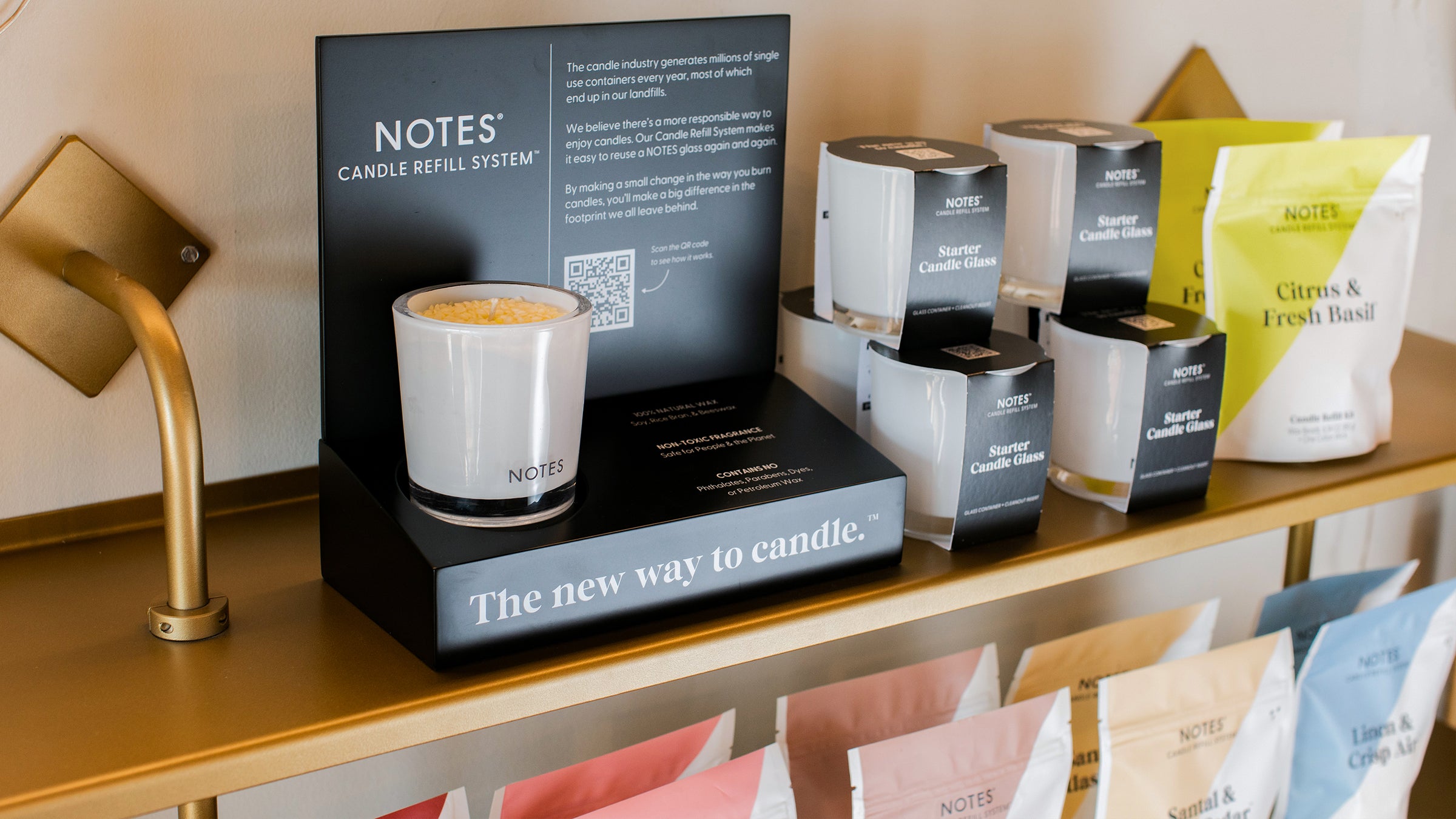 bring notes near you.
Ready to sell?
Learn more about how to fill your store with NOTES® & share The new way to candle™ with your area.
We proudly partner with ONECOAST, a leading Gift Industry Sales Organization. To learn more, click here.
Find Your Rep
Discover the ONECOAST Territory Manager in your area.
Learn More
View Catalog
Follow the link below to access our digital catalog!
Browse
Request Information
Our Customer Service Team would love to help. 
Learn More
Retailer Frequently Asked Questions
Our wholesale order minimum is $500 and reorders are $100.
NOTES® is represented in the independent gift industry by leading sales organization, ONECOAST. Please click here to find your territory manager.
Yes! Orders over $500 qualify for 100% freight incentive (except
direct to AK and HI, over $1500 receive 10% of merchandise amount). *Must pay within terms to qualify. Offer valid May 15th, 2023 - July 31st, 2023. Must ship by October 15th, 2023.
2 Ways You Can Start the Dealership Process
Contact the Sales Representative in your area directly. NOTES® is represented by ONECOAST, a top gift industry sales organization. To find your local representative, click here. 
Visit our showrooms for more information. Stop by and see us in Atlanta, Dallas or Las Vegas. We'd love to meet you! 
Contact Our Customer Service Team. Our Customer Service Team would love to help. Customer Service is available to help you Monday through Thursday 8:00 am to 6:00 pm and Friday from 8:00 am to 5:00 pm EST. Please feel free to call 1-866-603-6165 to talk with an experienced Customer Service Specialist.
Say hello at the shows 👋
You can find us located in the ONECOAST showroom in Atlanta and Dallas.
Atlanta: AmericasMart Building 2 #1800
July 11th, 2023 – July 17th, 2023
Dallas: World Trade Center #256
June 21st, 2023 - June 27th, 2023
Show Special
May 15th, 2023 - July 31st, 2023
Orders over $500 qualify for 100% freight incentive (except
direct to AK and HI, over $1500 receive 10% of merchandise amount)

* Must pay within terms
*Orders must ship by October 15th 2023