NOTES® Candle Refill System is a more responsible way to enjoy home fragrance. Reuse your NOTES® Candle glass again and again so we can all leave a little less behind.
How it Works
build-your-candle kit
The perfect starting place.
Choose 2 Fragrances To Create Your Own Custom Starter Kit & Begin Your Sustainable Candle Journey.
Get Started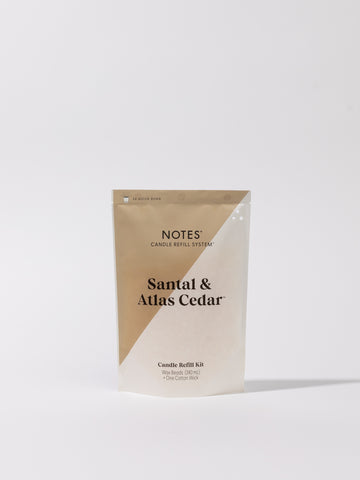 Back for more?
Candle Refills
9 great fragrances to keep your NOTES® candle burning again and again.
Shop Now
Refills Over Landfills.
The candle industry generates millions of single use containers each year, most of which end up in our landfills.
We believe that small changes can have a big impact. By choosing refillable systems over single use products, you are changing the way the world candles, and leaving a little less behind.
★★★★★

"What a fun new way to burn candles! My son loved helping me fill up the jar... and the scent - AMAZING!"
★★★★★

"Absolutely worth it & a great gift. 10/10 would recommend and rebuy!"
★★★★★

"I wish I had thought of this! As a person who has thrown away far too many candle jars, I love this concept."
★★★★★

"Finally found my perfect fragrance. Guests come over and are just obsessed with how my home smells!"
★★★★★

"I think this system is genius! I have been searching for a less wasteful way of burning candles. Kudos!"
Fragrance Selection Made Simple.
Sustainability doesn't mean you have to sacrifice finding a fragrance you love. Answer a few questions & we'll recommend the NOTES® fragrance best suited for you.
Take the Quiz